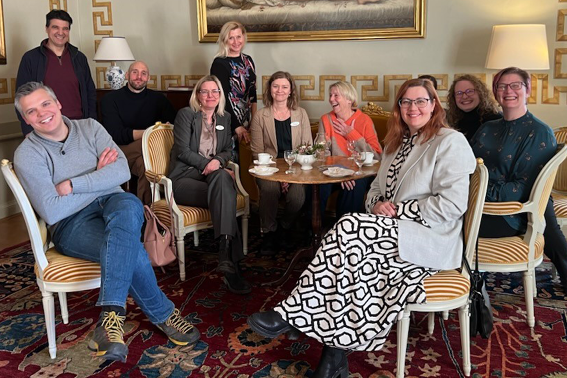 The team during the "swedish fika" at the castle
The final transnational meeting took place in Örebro, Sweden between 8-9th of March to close the project after two years of learning, sharing and developing an inclusive and digital Toolkit and Training Package for Career Councellors. Great and strong teamwork and excellent professionals from Latvia, Belgium, Portugal and Finland and Sweden.
Inspiration and knowledge
During the visit at Örebro University we met a study and career counsellor who talked about her daily work with students. An initiative that has been running for many years is called "Linje 14", a method that aims to encourage more young pupils from non-academic environments to go on to higher education.
Visit the Örebro Castle
The County Council at Örebro Castle welcomed us to the castle and offered Swedish coffee, which was appreciated. The days ended at the Mälardalen Chamber of Commerce and we rounded off two years of cooperation by reflecting on what we have learned and what we take with us for the future. Now the work remains to write a final report and put material on the web.
Did the content help you?
If you would like to send some feedback, you may do that
Thank you for your feedback!
Last updated: Wednesday, March 29, 2023